Thomas Bayer
2015 - Division 7 Crew Chief of the Year
Thomas Bayer has gone from student to teacher, winning every step of the way. Countless racers from new people entering the sport to the well-experienced drivers have called Thomas Bayer to ask for advice. With division championships in Super Gas, Super Comp, Top Dragster and Top Alcohol Dragster, Bayer has more than proven himself behind the wheel while racing down the dragstrip. The California based racer has spent the better part of his life at the race track as a spectator turned driver, team owner and participant. As a child, Bayer had the opportunity to watch his father speed down the race track. Little did Bayer know, that first trip out to the drag strip would point him in the direction that his career would revolve around.
Bayer worked alongside Frank Hawley and Jack Beckman instructing and running the shop at Frank Hawley's Drag Racing School. It was here that Bayer realized he had a passion for helping with one-on-one instruction with students who enrolled in extended weekend programs racing at the same tracks Bayer competed at himself. Hawley ended up dropping the weekend program from his school, but Bayer saw opportunity and wanted to continue to do the weekend program with his own cars. As Bayer continued to run an extended weekend program with his own cars he realized his passion for teaching people how to bracket race, race with strategy and do it proficiently.
Tom Bayer's School of Drag Racing has actively been working with new and experienced drivers for the greater part of the last 15 years. Bayer credits the success of his own programs as a result of working with the drivers and cars on a daily basis. The constant teaching always keeps the different strategies of racing fresh in his mind and helps remind him as a driver.
While many see racing as a hobby, Bayer has turned his hobby that he loved into a profession. He has had the pleasure of maintaining a great relationship both on and off the track with Lucas Oil for 20 plus years. With continued support from other longtime sponsors such as: Lucas Oil Racing TV, Protect the Harvest, BT Performance, Crower Cams, Tietz Fab, Figspeed Speed Shop, Todd Barton Design, Hoosier Tires and K&N Filters. Thomas Bayer has powered his program to the top of the sportsman ranks in the country. Bayer can currently be seen supporting his sponsors while racing his Top Dragster and Super Comp dragster within the Lucas Oil Drag Racing Divisional Series and the Lucas Oil National Points Series. Thomas credits his father as both a mentor and a crew chief as a big part of the race teams success. His strongest supporter is his wife, Gina whom he met at the Indy 500 in 1995!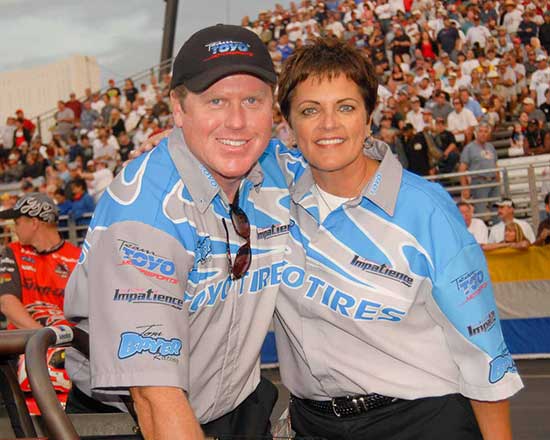 RECENT SUCCESS:
4 time Jegs All Star Qualifier
5 Time Lucas Oil Drag Racing Series Champion in 4 Different classes
2 time Association Champion
Team Owner, Association Champion Lee Priest.



2017

Thomas Bayer
2017- Runner-Up. Southwest Showdown, Shoot-Out. Tucson,AZ


Team Driver James Warden
2017- Runner-Up... Southwest Showdown. Friday Big $$$ Friday Night Event. Tucson, AZ
2017- Winner... SCEDA Super Comp Assoc Event. Fontana, CA


Team Driver Larry Beckner
Simi Finals, Super Comp at the Lucas Oil Drag Racing Series opener Fontana,CA



2016

Thomas Bayer
2016- Winner... FigSpeed Classic/ Huntsville 64 Car Shootout. Fontana, CA
2016- Runner-Up... Nightfire Nationals Bracket Event. Boise, ID
2016- Winner... Top Dragster, Lucas Oil Drag Racing Series. Woodburn, OR
2016- Winner... Top Dragster, Lucas Oil Drag Racing Series. Sonoma, CA
2016- Runner-Up... Top Dragster, Lucas Oil Drag Racing Series. Salt Lake City, UT
2016- Division 7 Points Champion, Top Dragster. Lucas Oil Drag Racing Series
2016- 6th in National Points Top Dragster, Lucas Oil Drag Racing Series


Team Driver James Warden
2016- Quarter finals. Big Bucks Bracket Event. Salt Lake City, UT
2016- Winner... Run for the $$$. Las Vegas, NV


Team Driver Megan O'Boyle
2016- Winner... NMCA Bracket Event. Fontana, CA
Won her first race event she entered!


Team Driver Jerry Dean
2016- Winner... SCEDA Super Comp Assoc Race. Fontana, CA
2016- Quarter Finals. Lucas Oil Drag Racing Series. Seattle, WA


Team Driver Scott Dean
2016- Simi-finals... Lucas Oil Drag Racing Series. Seattle, WA


Team Driver Larry Beckner
Simi Finals Big Bucks$$$ bracket Event. Salt Lake City, Utah



2015

2015 Division 7 Crew Chief of the Year


Thomas Bayer
2015-Winner... Super Comp Shoot-Out. Jegs Sportsnational, Auto Club Dragway. Fontana,CA
2015- Winner...NorCal Top Dragster Association. Sonoma Raceway, Sonoma, CA
2015- Runner Up...NorCal Top Dragster Association. Sonoma Raceway, Sonoma, CA
2015- 6th Place Finish Top Dragster. Division 7 Lucas Oil Drag Racing Series Championship Points


Team Driver Jerry Dean
2015-8th place out of 185 Drivers in Division 7 Lucas Oil Drag Racing Series Championship Points.
2015-44th Place out of 1141 Drivers in Lucas Oil Drag Racing National Championship Points.
2015-Runner Up...Super Comp Sonoma,Ca. Division 7 Lucas Oil Drag Racing Series.
2015-Runner Up...Super comp. Seattle, Wash. Division 6 Lucas Oil Drag Racing Series.
2015-Runner Up...SCEDA Super Comp Association Auto Club Dragway, Fontana, CA.
2015-Runner Up...SCEDA Super Comp Association Auto Club Dragway, Fontana, CA.


Team Driver Tim Takeshita
2015-Runner Up...Super Pro. Summit ET Series Event. Auto Club Dragway, Fontana, CA.


Team Driver Scott Dean.
2015- Runner Up...Super Comp. Auto Club Finals, Pomona, CA.
2015-Winner...Super comp. SCEDA Super Comp Association Event. Auto Club Dragway, Fontana,CA.



2014

2014-Runner-up Super Gas. Pomona Winternationals. NHRA National Event
2014-Winner Top Dragster. Lucas Oil Drag Racing Series. Las Vegas, NV
2014-Runner-Up Top Dragster. NHRA National Open. Fontana, CA
2014-Winner Super Gas. Sonoma. CA - NHRA National Event

2013

2013-Winner super comp assoc Bakersfield, CA
2013-Winner Super Comp. Lucas Oil Drag Racing Series Division 6, Seattle, WA
2013-Runner-Up Top Dragster. Lucas Oil Drag Racing Series Division 6. Seattle, WA
2013-Runner- Up Top Dragster Jegs Sportnationals. Las Vegas, NV

2012

2012-Winner NorCal super comp assoc. Fallon, NV
2012-Winner Super Comp. Lucas Oil Drag Racing Series, Division 7 Phoenix, AZ

2011

2011 Finished 9th in Super Gas, Lucas Oil National Points Series
2011-Finished 5th in Super Gas, Lucas Oil Divisional Points Series.
2011-Winner Super Comp, Supreme Sportsman Nationals, Las Vegas, NV.
2011-Winner Super Pro, National Dragster Challenge, Las Vegas, NV
2011-Winner Super Gas,Jegs Sportsnationals, Fontana, CA
2011-Winner Super Gas, Lucas Oil Division 7 Event, Phoenix, AZ
2011-Winner Super Pro, Hangover Nationals, Fontana, CA
2011-Winner Top Comp, Lucas Oil Top Comp, PSCA Event, Las Vegas, NV
**Team Car-Tim Takeshita Driver*
2011-Runner-up Super Comp, NHRA National Open Series,Portland, OR
**Team Car-Les Matsukado Driver**
2011-Runner-up Super Comp,NorCal Super Comp Assoc, Sonoma, CA
**Team Car-Jack Freckmann Driver**
2011-Winner Super Comp,Norcal Super Comp Assoc, Fallon, NV
** Team Car- Jack Freckmann Driver**

2010

2010-Finished 10th in Super Comp,Lucas Oil National Points Series
2010-Finished 6th in Super Comp, Lucas Oil Divisional Points Series
2010-Winner Super Gas, Lucas Oil Division 7 Event, Tucson, AZ
2010-Runner-up Super Comp,NHRA Summit.com Nationals,Las Vegas, NV
2010-Winner-Super Comp, Norcal SuperComp Assoc,Sonoma, CA
2010-winner-Super Comp, SoCal Super Comp Assoc,Fontana, CA
2010-Winner-Super Pro, National Dragster Challenge, Fontana,CA
**Team Car- Ken Ginter Driver**
2010-Winner-Super Comp, Supreme Sportsman Nationals,Las Vegas,NV
**Team Car-Jack Freckmann**



2009

2009-Champion Super Comp Division 7, Lucas Oil Point Series
2009-Runner-up Super Comp Lucas Oil National Point Series
2009-Runner-up Super Gas,NHRA Winternationals,Pomona, CA
2009-Winner Super Comp, NHRA Jegs Sportsnationals,Fontana, CA
2009-Winner Super Comp, Lucas Oil Slick Mist Nationals, Phoenix, AZ
2009-Runner-up Super Comp, Division 7 Lucas Oil Points Series,Phoenix, AZ
**Team Car Rich Camou Driver
2009-Runner-up Super Gas, Division 7 Lucas Oil Points Series, Sonoma, CA
2009-Runner-up Super Comp, NHRA Jegs Sportnationals,Fontana,CA
**Team Car- Jack Freckmann Driver**

2008

2008-Champion Top Alcohol Dragster, Jegs All-Stars, Chicago, IL
2008-Runner-up Top Alcohol Dragster Lucas Oil Drag Racing Series. Fallon, NV
2008-Runner-up Top Alcohol Dragster, Route 66 NHRA Nationals,Chicago, IL
2008-Runner-up Super Gas, Summit Racing.Com NHRA Nationals, Las Vegas, NV
2008-Winner Super Comp, Division 7 Lucas Oil Points Series,Sonoma, CA
**Team car Rich Camou Driver**
2008-Winner Top Alcohol, Lucas Oil Division 6 Point Series, Woodburn, OR



2007

2007-Winner Top Alcohol Dragster. NHRA Seattle Nationals
2007-Runner-up Top Alcohol Dragster, Lucas Oil National Point Series
2007-Champion Top Alcohol Dragster, Lucas Oil Division 6 Point Series
2007-Division 6 Top Alcohol Dragster Driver of the Year
2007-Winner Top Alcohol Dragster,NHRA O'Rielly Nationals, Dallas, TX
2007-Runner-up Top Alcohol Dragster,Lucas Oil Division 6 Point Series, Woodburn, OR
2007-Winner Top Alcohol Dragster, Lucas Oil Division 6 Point Series, Medford, OR
2007-Runner-up Top Alcohol Dragster, Lucas Oil Division 6 Point Series,Seattle, WA
2007-Winner Top Alcohol Dragster, Lucas Oil Division 6 Point Series, Mission, BC
2007-Runner-up Top Alcohol Dragster, Lucas Oil Division 6 Point Series,Fontana, CA
2007-Runner-up Super Comp, NHRA Lucas Oil Nationals, Brainerd, MN
2007-Winner Super Gas, Lucas Oil Division 7 Point Series.Phoenix, AZ



2006

2006-Champion Super Gas,Lucas Oil Division 7 point Series
2006-Champion Super Comp, Lucas Oil Division 7 Point Series
2006-Division 7 Sportsman Driver of the year
2006-Winner Top Dragster, Norcal top Dragster Assoc, Fallon, NV
2006-Winner Super Gas, Lucas Oil Division 7 Point Series, Fontana, CA
2006-Double-up Winner Super Comp & Super Gas, Lucas Oil Division 6 Points Series, Woodburn, OR