License Program
Earn Your NHRA License or Just Have Fun
At Tom Bayer's School Of Drag Racing we have over 30 years of drag racing experience
The license program is designed for the driver that wants to obtain a NHRA license or just have the thrill of driving a 800HP dragster at 150MPH in 8 seconds in the 1/4 mile with 60' times in the 1.2- 1.3 sec range, and traveling at the rate of 220 feet per sec at top speed! The license program will run over two days, and will cover the fundamentals and procedures of drag racing in the classroom, as well as the drag strip. Every run will progressively get faster down the drag strip provided that you receive a passing grade on the run before. Each pass is video recorded and reviewed so each driver receives one-on-one instruction, learn driving techniques and procedures that help you progress to faster speeds.
Race cars are expertly maintained and are ultra competitive. That will benefit the driver in reaching thier goals.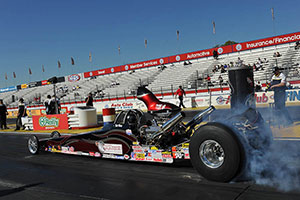 License Class Includes
Small Class Sizes
We focus on Quality not Quantity
In Car Camera
Leave with a free copy of your Experience
800 HP ...150+ MPH Dragsters.
Real Competitive Race Cars
All Equipment Provided
Bring your own Helmet if you like
Free Race Swag
Free stuff from our Sponsors
Includes 6 Runs
Only 6 Runs are needed to earn your license
License Class Dates

Location

Tuition

September 9-10, 2017

Fontana,CA.

Only $1995.00

September 30, 2017

Fontana,CA.

Only $1995.00

November 18, 2017

Fontana,CA.

Only $1995.00

License in your own car

Only $995.00

FILL THE NEED FOR MORE SPEED!!!!
Additional 1/4 mile Runs.

Only $250.00
Want to go Racing?
After you earn your NHRA competition license we have a Race Team program that allows you to compete at a Real Race Event!
We provide the Race Car, Driving Equipment, Instruction, and the Formula on how to Win!
Oh ya, And have some fun too!

Call to book your Experience Today!
Class Sizes are limited!
(909) 578-1110