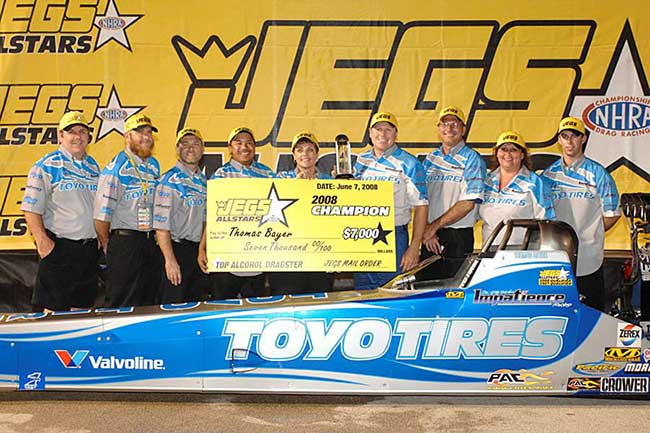 Bayer, representing the NHRA Northwest Division where he is the reigning Lucas Oil Drag Racing Series Top Alcohol Dragster champion, qualified fifth in the 8car field. The race is comprised of the best points earning race cars from each division over the past 12 months. Thomas paired up with Fort Worth, Texas racer Spencer Massey in round one, taking that win with a 5.44 second 260 mph blast from the Toyo Tires dragster as Massey lost with a 5.40 at 274 mph pass after red lighting. In the semi, Bayer defeated the event's number one qualifier John Finke of New York, winning with a 5.447 at 259 mph. Finke lost with a 5.546 251.25. After a few weather related delays at Route 66 Raceway, the final round was decided by a mere .016 seconds, with the Toyo Tires car getting the win light with a 5.408, 259.31 over the Oklahoma based entry of Brandon Pierce.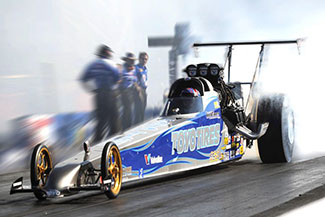 "Although we came up one round win from a perfect weekend, all I can say of the performance of the Toyo Tires Team is Wow," Bayer said of their runner-up finish in the Torco Fuels Nationals the day after the Allstar race. "We worked all night after the Jeg's race to have the car ready for the Sunday national event. After winning the Jeg's race, we were supercharged and ready to do battle! I think I wore out my practice tree preparing for that race," Bayer claimed. Thirty two cars attempted to qualify for the 16car field alcohol dragster class at the Torco Nationals, where Thomas, 5.444 second pass at 260 mph was good for the thirteenth spot on the ladder. "I knew my starting line reaction time would have to be extremely good in the first round as we were paired with Shawn Cowie, who qualified solidly in the 5.30s. I left the line with a .036 light to Cowie's .084, which resulted in our first round victory, 5.405 to a losing 5.404. In the second round, we were up against Aaron Tatum and we out performed them at both ends of the track. We beat Noah Condo of Indiana in the semi, beating him 5.43 at 260 to his losing 5.47 at 259. I was very confident going into the final against Lucas Oil Top Alcohol Dragster champion Bill Reichert. I had a .07 second advantage off the starting line against him, but just as I shifted to second gear, the transmission broke." That ended the race and Reichert went on to win with a 5.35 pass.
Tom Bayer Racing continues with the west coast swing, including the Woodburn Lucas Oil Drag Racing Series race (July 1113), the Schuck's Northwest Nationals at Seattle (July 1820), and the Fram Autolite Nationals at Sonoma (July 2527).
Tom Bayer Racing is sponsored by Toyo Tires, Lucas Oil Products, and K&N Filters
Tom Bayer Racing Team Facts:
Won the 2008 NHRA Jeg's Allstar race at Chicago in Top Alcohol Dragster (June 2008).
Runner-up at the Torco Fuels Nationals at Chicago in Top Alcohol Dragster (June 2008).
Runner-up at the SummitRacing.com NHRA Nationals at Las Vegas in Super Gas (April 2008).
Won the 2007 NHRA Northwest (Division 6) Top Alcohol Dragster Championship.
Finished second in the NHRA Lucas Oil Top Alcohol Dragster national points standings.
Won the 2007 NHRA O'Reilly Fall Nationals Top Alcohol Dragster title at Dallas, (Sept 2008).
Runner-up at the Lucas Oil NHRA Nationals, Brainerd, Minn., in Super Comp (August 2007)
Won the Top Alcohol Dragster title at the Schuck's Auto Parts NHRA Nationals at Seattle. (July 2007)
Runner-up in TAD at the NHRA Lucas Oil Drag Racing Series event at Seattle. (July 2007)
Won the NHRA Lucas Top Alcohol Dragster title at Medford, Ore. (July 2007)
Runner-up in TAD at the NHRA Lucas Oil Drag Racing Series event at Woodburn, Ore. (June 2007)
Won the NHRA Lucas Top Alcohol Dragster title at Mission, B.C. (May 2007)
Runner-up in TAD at the NHRA Lucas divisional at Fontana, Calif. (May 2007)
Won the NHRA Lucas Oil Super Gas title at Phoenix, Ariz. (March 2007)
Tom Bayer Racing has won over 40 events over the past five years using Toyo racing tires.
2006 NHRA Lucas Oil Pacific Division Super Gas Champion
2006 NHRA Lucas Oil Pacific Division Super Comp Champion
2004 NHRA Auto Club Finals Super Comp Champion