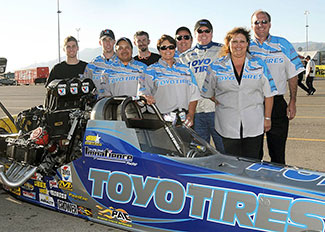 Team Toyo Tires Top Alcohol Dragster to the All Stars! Tom Bayer Racing and the Team Toyo Tires Top Alcohol Dragster will have the honor of representing the NHRA Northwest Division during the annual NHRA-Jegs Allstar event at Route 66 Raceway in Chicago. Thomas Bayer, driver of the Toyo Tires dragster edged out Shawn Cowie for the right to match up against the best team in each of the seven Lucas Oil Drag Racing Series divisions from coast-to-coast. "It's an honor to be recognized as having the best team in Northwest Division," Bayer claimed. "We look forward to competing against this group of topnotch drivers and representing Toyo Tires at this classic event. I know Steve and Patty [Federlin] and the Impatience Racing Team will have the car at its best." The June 58, 2008 Allstar race will be televised on ESPN2.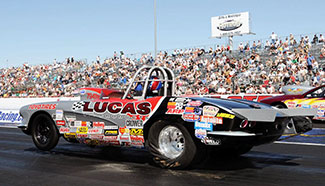 Final round Super Gas finish for Bayer and the Lucas Oil, Toyo Tires, and K&N Filters Corvette at Las Vegas! Thomas Bayer had a great weekend at the 2008 Summit Racing NHRA Nationals at the Strip at Las Vegas Motor Speedway, as he put the Lucas Oil/Toyo Tires/K&N Filters sponsored Chevy Corvette in the final round of Super Gas before a huge crowd at the Las Vegas super track. Bayer's weekend began with a win over reigning event champion Rodney Lee, in the second round he stopped Las Vegas resident John Dowd, and in round three he edged Torrance, Calif., racer Rich Okerman. Bayer used a near perfect .006 reaction time in the fourth round to get by Santa Fe, NM, racer Michael Miller, and in the quarterfinals he cut the tree even closer, recording a .002 reaction time to beat veteran racer Max Tofoya of Albuquerque, NM. Roger Kato of North Las Vegas drew a red light foul against Bayer in the semifinals, leading up to the final round against Randy Balough of Newbury Park, Calif. Balough had a slight advantage in the championship round, and he held off for the win with his '63 Corvette roadster 10.063, 158.24 (10.05 index) to Bayer's second best, and too quick, 10.036, 146.38.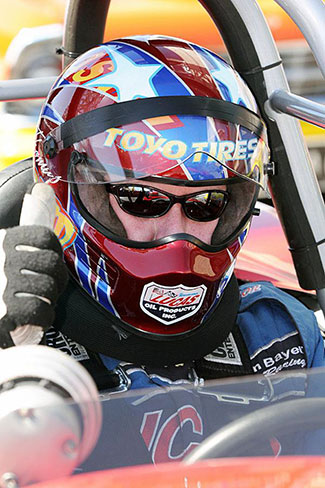 "What a great weekend for the Lucas Oil Products, Toyo Tires, K&N sponsored Super Gas Corvette," said Bayer. "I'm very pleased with our performance even though we came up a little short. This will be a good foundation for the remainder of this year's point's chase. "I would like to thank my wife Gina, dad Tom Bayer Senior, mom Cheryl, brother Brian and his wife Carrie for their support this season. Thanks to my sponsors, Lucas Oil Products, Toyo Tires, and K&N Filters. These are the people and products that are responsible for the success of Tom Bayer Racing. Thank you!"
Bayer and the Impatience Racing Team made a good showing with the Toyo Tires Top Alcohol Dragster at Las Vegas, as he qualified in the top half of the field with a 5.42 second, 261.47 mph blast that put the dragster in the seventh spot for the eliminations program. He defeated Larry Miersch's nitro burning injected dragster in the first round 5.46, 259.81 mph to a 5.50, 250.13 losing time for Miersch with a margin of victory of .001 seconds. The Team Toyo Tires dragster and the Jim Whiteley/Norm Grimes tuned dragster battled during the entire 2007 season while Bayer finished the year second in the national points standings, and Whiteley was fourth overall. In this match up, Whiteley picked up the win light by .010 seconds and advanced to the final round where he lost to first time winner Jeff Isbell. As for the Bayer Whiteley race, Thomas had a superior reaction time (.049 to a .092), but the Norm Grimes tuned machine caught up at the finish line with a stout 5.385, 266.27 mph win as Bayer lost with a 5.438, 260.71.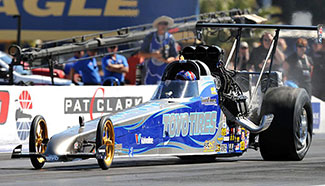 "There was close racing all weekend," said Bayer. "We won by .001 seconds in the first round, and in the second round we lost by .010. It could have been anybody's race. The Toyo Tires Team worked extremely hard, I feel that even though we lost that round, there was nothing left on the table after that second round run. I would like to thank Toyo Tires and the Impatience Racing Team for a great effort. I'm looking forward to competing at the Lucas Oil Drag Racing Series event next weekend in Mission, B.C., Canada."
There wasn't a "home track advantage" for Tom Bayer Racing when the team competed with the Super Gas and Super Comp cars at the team home track, Auto Club Dragway in Fontana, Calif. Competing in the third event of the Lucas Oil Drag Racing Series contested in the Pacific Division this year, Thomas bowed out in the early rounds in each category, and is looking forward to the team's next event, the Lucas Oil Drag Racing Series race at Mission Raceway, Mission, British Columbia, on May 2325.
Tom Bayer Racing Team Facts:
Runner-up at the SummitRacing.com NHRA Nationals at Las Vegas in Super Gas (April 2008).
Won the 2007 NHRA Northwest (Division 6) Top Alcohol Dragster Championship.
Finished second in the NHRA Lucas Oil Top Alcohol Dragster national points standings.
Won the 2007 NHRA O'Reilly Fall Nationals Top Alcohol Dragster title at Dallas, (Sept 2008).
Runner-up at the Lucas Oil NHRA Nationals, Brainerd, Minn., in Super Comp (August 2007)
Won the Top Alcohol Dragster title at the Schuck's Auto Parts NHRA Nationals at Seattle. (July 2007)
Runner-up in TAD at the NHRA Lucas Oil Drag Racing Series event at Seattle. (July 2007)
Won the NHRA Lucas Top Alcohol Dragster title at Medford, Ore. (July 2007)
Runner-up in TAD at the NHRA Lucas Oil Drag Racing Series event at Woodburn, Ore. (June 2007)
Won the NHRA Lucas Top Alcohol Dragster title at Mission, B.C. (May 2007)
Runner-up in TAD at the NHRA Lucas divisional at Fontana, Calif. (May 2007)
Won the NHRA Lucas Oil Super Gas title at Phoenix, Ariz. (March 2007)
Tom Bayer Racing has won over 40 events over the past five years using Toyo racing tires.
2006 NHRA Lucas Oil Pacific Division Super Gas Champion
2006 NHRA Lucas Oil Pacific Division Super Comp Champion
2004 NHRA Auto Club Finals Super Comp Champion