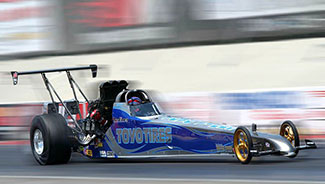 Seattle, Wash. -Thomas Bayer and the Toyo Tires Racing Team will be looking for a double victory this coming weekend at the Shuck's Auto Supply NHRA Nationals in Seattle. The Toyo Tires team went to the final round at the Lucas Oil Drag Racing Series event in mid-June, but weather delays and curfew requirements forced postponement of the Top Alcohol Dragster and Funny Car finals until the final qualifying pass of this weekend's NHRA national event at Seattle. Bayer will match up with Brandon Johnson for the Seattle divisional title. Johnson won the season opening NHRA CarQuest Winter nationals in Pomona, and is currently fourth in the Northwest Division Top Alcohol Dragster point's standings. We will do the best we can, and hopefully we'll end up qualifying well into the top half of the field and take home our third divisional trophy in the process," Bayer claimed, "We will then concentrate on winning the team's first NHRA 'Wally'."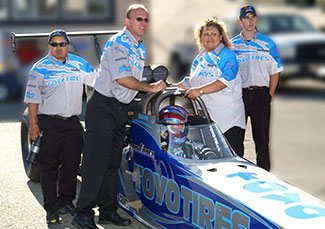 Following the Seattle NHRA Nationals, the team will venture back to California for the 20th annual Fram Autolite Nationals in Sonoma July 2729, and possibly competing in the Lucas Oil Drag Racing Series event the following weekend at Sonoma as they prepare to compete at the NHRA Toyo Tires Nationals at Maple Grove Raceway in Reading, Penn., August 1619. Thomas Bayer is currently in sixth place in the NHRA national event point's standings, and the team has opportunity to improve upon that. Over the past month, the Toyo Tires Racing Teams won the Lucas divisional race at Medford (Eagle Point, Ore.), was the runner-up at Woodburn and can still pick up 20 points with a win at the postponed Seattle race. Toyo Tires put Russum in Super Comp Finals at Fontana. Kyle Russum, racing in his first competitive drag race, went to the final round of the Lucas Oil Super Comp Association series event at Auto Club Dragway at California Speedway driving one of the Tom Bayer Racing Super Comp dragsters. Russum won five rounds of the eliminator, but lost in the final to former series champion Glenn Kern. Congratulations on a great showing, Kyle and Toyo Tires!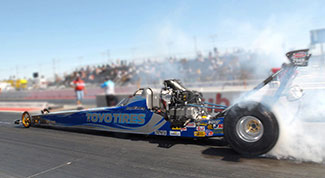 Next Event:

Shuck's Auto Supply NHRA Nationals
Pacific Raceways, Seattle, Wash., July 20-22, 2007
Top Alcohol qualifying will take place on Friday at 1:30 pm, 4:30 pm, and Saturday at 1:00 pm.
Round one of eliminations is scheduled for 4:00 pm on Saturday and concludes Sunday afternoon.
Tom Bayer Racing Team Facts:
Runner-up at the SummitRacing.com NHRA Nationals at Las Vegas in Super Gas (April 2008).
Won the 2007 NHRA Northwest (Division 6) Top Alcohol Dragster Championship.
Finished second in the NHRA Lucas Oil Top Alcohol Dragster national points standings.
Won the 2007 NHRA O'Reilly Fall Nationals Top Alcohol Dragster title at Dallas, (Sept 2008).
Runner-up at the Lucas Oil NHRA Nationals, Brainerd, Minn., in Super Comp (August 2007)
Won the Top Alcohol Dragster title at the Schuck's Auto Parts NHRA Nationals at Seattle. (July 2007)
Runner-up in TAD at the NHRA Lucas Oil Drag Racing Series event at Seattle. (July 2007)
Won the NHRA Lucas Top Alcohol Dragster title at Medford, Ore. (July 2007)
Runner-up in TAD at the NHRA Lucas Oil Drag Racing Series event at Woodburn, Ore. (June 2007)
Won the NHRA Lucas Top Alcohol Dragster title at Mission, B.C. (May 2007)
Runner-up in TAD at the NHRA Lucas divisional at Fontana, Calif. (May 2007)
Won the NHRA Lucas Oil Super Gas title at Phoenix, Ariz. (March 2007)
Tom Bayer Racing has won over 40 events over the past five years using Toyo racing tires.
2006 NHRA Lucas Oil Pacific Division Super Gas Champion
2006 NHRA Lucas Oil Pacific Division Super Comp Champion
2004 NHRA Auto Club Finals Super Comp Champion