Welcome to Tom Bayer's
School of Drag Racing
We have weekend programs that will feed your need for speed! Our Teammate program will get your heartbeating and living life at speeds traveling at 150+ MPH ( 220+ feet per second! ) in the 1/4 mile.

Our Teammate program starts with one on one instruction where you EARN your NHRA competition license, once you have completed the licensing program, you are ready to start the teammate program and become a competitive drag racer.
TIME TO LIVE YOUR DREAMS
COME RACE WITH US!
At Tom Bayer's School of Drag Racing we have over 30 years of drag racing experience that will assist you in earning you competition license and improving your on track performance. Thomas Bayer is a multi-time champion, and has been victorious many times on both the NHRA national event and divisional level. Tom Bayer's School of Drag Racing consists of perfectly maintained and ultra competitive dragsters that will benefit the students in obtaining their license and reaching the winners circle.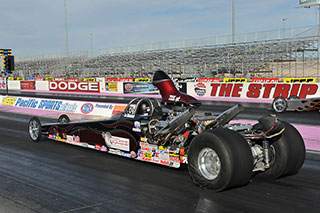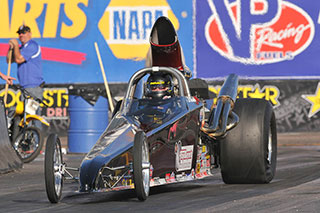 Students have the choice of participating in multiple courses based on skill level and experience.
Earn your NHRA Competition License or check off that bucket list in one of our 8 Second, 150+ MPH Dragsters. We have one-on-one weekend driving programs.
For the student that has successfully completed the licensing process, or even a racer that is currently licensed and doesn't have a car of their own, Tom Bayer's School of Drag Racing offers the teammate program. This is an excellent option for any racer that has the desire to race. With the Tom Bayer's School of Drag Racing teammate program, you can become part of the race team at any given event. The teammate will have the chance to race a school car at a variety of events with the expert guidance of Tom Bayer.
All racers are welcome we accommodate everyone from the seasoned pro to the newly licensed, Tom Bayer's School of Drag Racing also offers a top end clinic to develop and enhance finish line driving techniques and strategies. Regardless of your experience level Tom Bayer's School of Drag Racing offers a program that will help strengthen your on track skills.
Please take the time and continue to learn more about Tom Bayer's School of Drag Racing. With our easy to use site you will see the experiences of some of our graduates. You will receive detailed explanations of our programs, and have access to testimonials from some of our students.
Testimonials
---
Tom,

I want to thank you for the time you spent with me at the Seattle Division race and the valuable discussions we had. The next weekend I went to Topeka and the result was quick and consistent reaction times. I am now confident and sure there is more where that came from. I always had it, and with your help I have found it again.

It was a tough decision to come talk to you. I had to swallow my pride and admit to myself that I was unable to solve this on my own. I am very thankful and lucky that you are the first guy I went to for help!

Once again, thank you VERY much! See ya at the track!!!!!

Chris Demke
---
This past March I had the opportunity to attend Tom Bayer's School of Drag Racing. Being from western Canada and not having access to any drag racing schools located here, I decided to explore what my options would be. Tom Bayer came recommended to me from my dad, a top alcohol dragster driver, after Tom and my father had first established a relationship while my father was attaining one of his racing licenses.
After speaking with Tom a few times, we had then planned a trip to Fontana, California to partake in his school at the beginning of March. From the moment I had arrived at the track, till the time I had officially received my NHRA super comp license, I was more than impressed everything I was taught, and how hospitable Tom, his wife, and staff were. I felt completely 100% safe from the moment I strapped into the car, and throughout making my licensing passes.
Tom and his staff took the time to make sure I understood everything I needed to know, in order to attain my NHRA license, and keep myself safe while doing so. My couple days I spent with Tom, Chuck and the rest of the Tom Bayer's School of Drag Racing staff was exciting, and something I will never forget. I would highly recommend this school to any of my friends and family looking to gain knowledge, or excel in the sport of racing, and am very thankful I got to learn from the best!!
Jodi St. Arnaud
Edmonton, AB Canada
---
Thomas's reputation led me to choose him as my teacher, he exceeded my expectations. As the days progressed I discovered that his thoroughness led me to trust him in every step of the process. The dragster he chose to teach me with was adaptable as my level of competence improved. I highly recommend Tom Bayer's School of Drag Racing, in no way did he let me down.
Karen
---
At the recommendation of my good friend Ken Ginter, I attended my first session of getting licensed. Tom's keen attention to every detail, aided by his dad, made this both a memorable and enjoyable weekend. Safety is the keyword in Tom's school, and as we went over every detail of the dragster, the equipment, the "what to do if this happens", I became very confident that it would be a very safe and educational weekend.
I felt a great deal of pride when I saw my name printed on the side of the car, and when I was first strapped in by Tom, it literally took my breath away. I will never forget my first run, the burnout, the adrenalin rush, and the sense of mind bending acceleration!! Then, after each run, a total review of the video, mindful noting of the corrections Tom asked for, and on to the next run.
Attention to every detail by either Tom or his great dad made my confidence ready for the challenge of each and hopefully faster run each time. The equipment was in first class shape, as well as the instruction and the instructors. I would highly recommend the Tom Bayer's School of Drag Racing to anyone without any hesitation. To quote a famous Arnold S. line, "I'll be back".
Don Elias
Altona, Manitoba, Canada
---